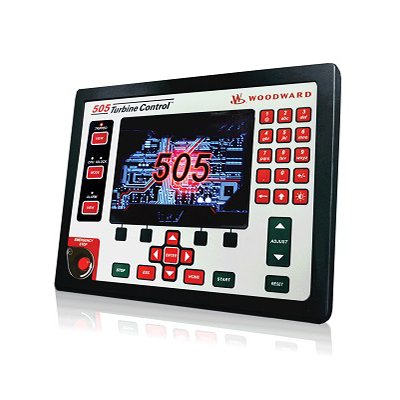 Product Overview

505 Controller
The 505 controller is purpose built to provide exemplary operation and protection of your industrial steam turbines. This user-configurable steam turbine controller includes specifically designed screens, algorithms, and event recorders to simplify use in controlling industrial steam turbines or turbo-expanders, driving generators, compressors, pumps, or industrial fans.

505 Version

The base 505 model is designed for simple single valve steam turbine applications where basic turbine control, protection, and monitoring are required. The 505 controller's integrated OCP, overspeed protection, and trip events recorder make it ideal for small steam turbine applications where overall system cost is a concern.

The 505XT model is designed for more complex single valve, single extraction or single admission steam turbine applications where more analog or discrete I/O (inputs and outputs) are required.

Simplified System Upgrades

Modernizing your aging technology to a better solution that will optimize performance and productivity has never been easier! Our new 505 and 505XT are direct drop-in replacements (form, fit and function) to your existing 505 systems.

Features
The 505's control capabilities include:

Speed/frequency control
Turbine or generator load control or limiting
Turbine inlet header pressure control or limiting
Turbine exhaust header pressure control or limiting
Plant import/export power control or limiting
Isochronous load sharing between units (with DSLC-2™ control)
Control of any process directly related to unit load
Remote analog setpoints for speed/load, aux, and cascade
High-speed digital communications to Woodward actuators and power management products


Product Overview
TMR®Protection Controller

Woodward's MicroNet TMR® (Triple Modular Redundant) controller is a customisable digital control platform that reliably controls and protects steam, gas turbines, and compressor trains used in system-critical applications where the chance of a safety issue or large economic loss may be possible.
MicroNet TMR's superior architecture and diagnostic coverage combine to create a system with 99.999% availability and reliability. The MicroNet TMR can be applied as a component of protection and safety systems to allow the overall system to meet IEC61508 SIL-3 compliance standards. IEC61508 calculations and application assistance are available upon request.

As an independent company, Woodward and our partners are able to provide full service, support and upgrades. We take great pride in customer support and continue to support fielded products for as long as parts are available. When upgrades are required, our OEM and Channel Partners are able to provide upgrade services on all controls.

Through standardization and attention to software evolution, Woodward's partners are able to adapt 1990's software into today's advanced control platforms with minimal or no changes required. Our world class software environment allows for updates to be done in GAP or imported as single blocks from other commonly used software environments including Matlab, C++, etc.
Specifications
Operating Conditions
Temperature (0 to 55) °C / (32 to 131) °F ambient air temperature range
Shock US MIL-STD-810C, method 516.2-1, procedure 1B
Vibration Lloyd's ENV2 test #1
Emissions * EN61000-6-4
Immunity * EN61000-6-2
Certifications * CE, UL/cUL, CSA (Class I, Division 2), LR for ENV1 & ENV2, ABS, GOST
Other International Compliance (with the use of MicroNet Safety Module) TÜV certified for SIL-3 per IEC 61508 Parts 1-7, Function Safety of Electrical / Electronic / Programmable, Electronic Safety Related Systems
MicroNet TMR Chassis —18 slot chassis
Mounting Bulkhead mounted or adaptable to 483 mm (19 inches) rack mount back panel
Control Chassis Dimensions 478 mm wide x 363 mm high x 307 mm deep
(18.8 inches wide x 14.3 inches high x 12.1 inches deep)
Control Chassis Weight 25 kg (55 lb)
Power Chassis Dimensions 163 mm wide x 363 mm high x 307 mm deep
(6.4 inches wide x 14.3 inches high x 12.1inches deep)
Power Chassis Weight: 7 kg (16 lb)
Power Supply Input Options
(18 to 36) Vdc, (100 to 150) Vdc, (88 to 132) Vac / (47 to 63) Hz, (180 to 264) Vac / (47 to 63) Hz
(*) Specifications apply to most components and modules. Some certifications may be pending. Contact Woodward for further information.